Agricultural Auction
Sat 11th September 2021
Location: Poplar Farm, Ramper Lane, Fenton, Lincoln LN1 2EW
Catalogue: Download
Farm Machinery Sale by Auction
---
Perkins George Mawer & Co. are favoured with instructions to undertake a Dispersal Sale by Auction of Farm Machinery on behalf of E. Lidgett & Son.
Viewing Day: Friday 10th September 2021 at 1pm – 6pm
and the morning of the sale from 9am
Sale Day: Saturday 11th September 2021 at 10.30am
Poplar Farm, Ramper Lane, off Maltkin Road, Fenton, Lincoln LN1 2EW
---
Farm Machinery Sale (subject to Covid 19 restrictions) to include:
Combine Harvester
(1981) DEUTZ-FAHR M1102 combine
harvester, c/w cab, straw chopper, 4335 hrs,
(10') Reg No: XFW 619X
Tractors
(2003) NEW HOLLAND TM155, 4wd, front
(480/70xR28) rear (580/70xR30), 3,360 hrs,
A/C, Reg No: FY03 ZYE
(1989) FIAT DT100/90, 4wd, front (12.4xR28)
rear (16.9xR38), front weight block, 9,184 hrs,
Reg No: F692 NTL
NEW HOLLAND L95 Tractor
4WD, A/C, FRONT WEIGHTS, 4,580 HRS, (1996)
Trailers
(1996) ARMSTRONG HOLMES grain trailer,
sprung drawbar, twin-axle/super singles,
hydraulic folding back door (12T)
(1985) WARWICK Bros. high-tip trailer, twinaxle,
drop sides, manual door (8T)
BAILEY Twin Axle Dump Trailer (14T) (1988)
Spreaders/Sprayers/Cultivation Equipment
(2005) KOCKERLING hyd. folding straw rake
(6m)
SPALDINGS 90/150 flat-lift, 3-leg, serial no.
JAH 200010, c/w packer roller
EDLINGTON Weedswiper
(2005) CLAYDON tine drill, c/w SULKY
Optiline/MP seed meter unit (3m)
KVERNELAND TARRUP 1116 Drum Mower
KUHN TWIN DISC Fertiliser Spreader (MDS 1141)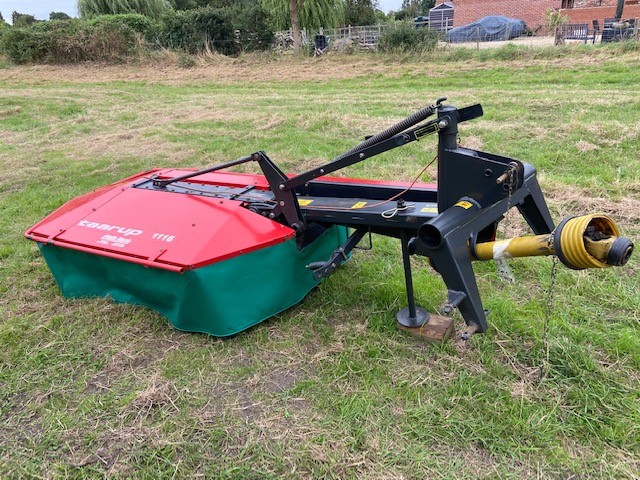 Workshop Equipment
Wooden workshop bench
Heavy duty metal bench
Painted pine workshop shelving/cupboard
PLUS MORE LOTS DETAILED ON i-bidder!
LOT LIST COMING SOON…
View all Auctions
Contact us
---
Other Autions
Antiques Auction
Corn Exchange Chambers, Queen Street, Market Rasen, Lincolnshire LN8 3EH
Agricultural Auction
Market Rasen Racecourse, Legsby Road, Market Rasen LN8 3EA